sortni sastav: merlo
cena: 17 evra (u vinariji)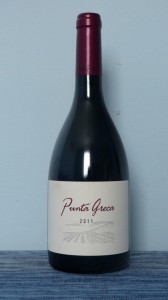 Na samom početku  −  a s obzirom na to da vina Punta Greca 2011. više nema na tržištu (u Srbiji ga nije ni bilo) −  moram da kažem da se smatram apsolutno  privilegovanim što sam uopšte imao priliku da ga degustiram.
Dizajn etikete samouvereno jednostavan.
Boca kakvu ovo vino definitivno zaslužuje:  lepa, masivna. Moćna…
Posle sat vremena u dekanteru, moć i u čaši… Puno, teško pokretljivo vino. Prozirno je, a ipak odiše nekakvom lepljivom gustinom…
Miris odličan. Topao, koncentrisan, somotast. Nadimljen, začinjen, slojevit.
Senzacije se nižu, mešaju… Vanila. Biber. Pomalo peckava oštrina izmrvljenog duvana.
Ne zna nos gde bi pre. 🙂 I sve to ipak zakačeno za snažna leđa neke voćne podloge.
U ustima −  fantastičan balans! Potpuni sklad! Očekivana aromatičnost i iznenađujuća svežina. Kiseline odlične, okrepljujuće. Zrele arome u punom zamahu. Opet oni začini iz drveta.  Pa trešnja… Čokolada, koja iz gutljaja u gutljaj postaje sve dominantnija.
Tanini nekako uspevaju da budu glasni, a meki. Suptilni. Uglačani.
Miris postepeno počne da dobija još jače sladunjave note vanile i čokolade.
Biće ovo sjaaajan starac, ako mu neko da mogućnost da stari.
Vredi svaki evro.
Punta Greca 2011.
Zbog nje svoj nadimak volim još više.